One of the oldest casino games around, Blackjack is also one of the most exciting games to play at an online casino. Even though it's fun to play, it can also be difficult to actually be any good at, particularly for those that have never played before. If you are one of these people, or even someone whose skills are a bit rusty, here's a complete beginner's guide for anyone looking to play online blackjack.
Rules of Blackjack
Online blackjack is not all that different from standard blackjack, as most of the rules remain the same. The primary difference is that you will be playing against a computer. Here's a look at a few of the rules that beginner's will need to keep in mind when playing online blackjack.
The primary goal is to score 21 points or as close to 21 points as possible.
Players will receive 2 cards from the dealer.
If you receive 2 aces, you can split them and attempt to beat the dealer with 2 separate hands.
The online game is typically played with multiple decks, each of which are reshuffled following each hand.
A Blackjack hand of 21 often earns a payout of 3 to 2, while any other winning hand will give a 1 to 1 payout.
If you or the dealer goes over 21, it is known as a bust.
Betting and Button Meanings
With any online casino interface, betting takes the form of clicking on a chip. This will signal to the dealer(computer) that you have placed your bet. The chips you clicked on will then be placed close to the middle of the table, which you can remove before the hand is played by clicking in that spot. The following is an in-depth look at all the button meanings.
The "Deal" button starts the hand.
The "stand" button ends the players turn.
The "Hit" button gives the player another card and can be used as many times as the player feels is necessary before going over 21.
The "Split" button means that you can split your hand into separate hands if they are of the same card value.
The "Double" button is clicked upon only when you feel that your hand is strong enough to double your bet.
Card Values and How to Win
Cards from 2-10 is worth the number on the card.
Aces earn 1 point or 11.
The Jack, Queen and King cards are valued at 10 points.
A Jack, Queen or King with an Ace is known as Blackjack and can only be tied with if the dealer also has blackjack.
The player must score as high as possible, without exceeding 21, to beat the dealer. For example, if the player has a hand of 17, they beat the dealer with a hand of 16 or below.
Compare the Top 10 Online Casino Sites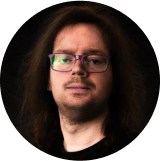 Author
Gavin Lenaghan
Gavin writes on a wide range of subjects, including articles and reviews about online casinos, slots, bingo, poker, and sportsbooks. He has considerable expertise in the games, customer service, and other aspects of today's leading gambling and betting portals.